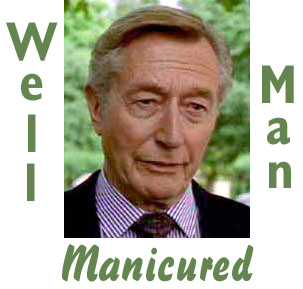 Well Manicured Man was a member of the Syndicate, but did never totally tolerate its policies. Of all the bad guys, WMM seemed to be the one with human side. WMM appeared to be Cigarette-Smoking Man's superior and the two men were never on good terms with each other. There's very little told about the private life of Well Manicured Man, but we do know that he was interested in horses and that he had an affair with Dr. Bonita Charne-Sayre who was his personal physician and a well-known authority on viruses. She was murdered by Vassily Peskow, a former KGB assassin. (Terma) This happened in Charlottesville, Virginia where WMM had some sort of country estate. When in England, he lived in Somerset County in large house with servants.
Well Manicured Man was strong and independent. He wanted to live normal life and he also worried about his grandchildren's future. The most common phrase from his mouth seems to be "My God" which was typically pointed to somebody (usually CSM) who was acting short-tempered and without consideration. Some might say that he helped Mulder and Scully only because of his own purposes and this is partly the truth. WMM himself might even have agreed as he told Scully that motives are rarely unselfish. However, I believe that under the cold and grey exterior he was a kind gentleman who didn't enjoy his role as a holder of power and who used murder only as a last compulsion.

I think that Well-Manicured Man was the most important informant of Mulder and Scully. At the funeral of Mulder's father, he informed Scully that she would be killed ( The Blessing Way). Mulder and Scully both met him in Victor Klemper's greenhouse (Paper Clip). WMM told them about the Project, though he said there's a lot more untold. He also met Mulder in central park and gave him information about the U.F.O. (Apocrypha) In The End we found out that he was willing to fight the Alien Colonists. And in TXF Movie he gave Mulder the vaccine and the coordinates to save Scully. He also told Mulder about the Syndicate's work, his father's involvement in it and why Samantha was taken. Well Manicured Man was ordered to kill Mulder, but instead of doing it he died when his car exploded.
The episodes with Well Manicured Man:
3X01 The Blessing Way
3X02 Paper Clip
3X16 Apocrypha
4X09 Tunguska
4X10 Terma
5X13 Patient X
5X14 The Red and The Black
5X20 The End
The X-Files Movie


Mitch Pileggi (the actor who plays AD Skinner) told, when asked who's his favourite character on the X-files other than his own, that it would probably be Well Manicured Man.

Other sources:
1013's Well-Manicured Man Page
Top of page
---
"
The X-Files
" TM and © (or copyright) Fox and its related companies. All rights reserved. Any reproduction, duplication, or distribution in any form is expressly prohibited. This site, its operators, and any content contained on this site relating to "The X-Files" are not authorized by Fox.