Scully did have a pet once. And we all miss that little golden Pomeranian from the bottom of our hearts. Dear fellow x-philes:
Queequeg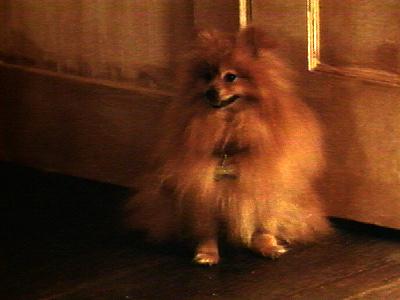 Queequeg was given to Scully as a present from Clyde Bruckman on September 22nd, 1995 ("Clyde Bruckman's Final Repose"). Queequeg previously belonged to his neighbor, Mrs Lowe. Scully named him after a character in Moby Dick. In that book Queequeg is a cannibal whaler. Not a bad choice from our enigmatic medical doctor, because Queequeg (the dog) chewed on the entrails of his previous owner. Next time Queequeg appears in "War of the Coprophages" when Scully is shampooing him with "Die, Flea Die".
Queequeg was a very strong and independent dog, and he usually ignored Scully's orders. (Reminds me of one special agent working in the x-files. <g>) That probably costed him his life, when in "Quagmire" he was tragicly killed by a monster named Big Blue. Or maybe it was just an alligator?

If you'd like to visit a page dedicated to the memory of Queequeg and donate a bone to him (this doesn't cost you anything), visit this site.
International Queequeg Society is also out there, check out their site.
Another site for QQ


The Truth from Frank Spotnitz:
We brought it back just to kill it.
---
Related images:
Ice: Scully and the dog.
Genderbender: Scully with the horse called Alice.Picture 1
and picture 2.
---
Top of page
---
"
The X-Files
" TM and © (or copyright) Fox and its related companies. All rights reserved. Any reproduction, duplication, or distribution in any form is expressly prohibited. This site, its operators, and any content contained on this site relating to "The X-Files" are not authorized by Fox.